Bard College Wins $1 Million New York State Clean Energy Competition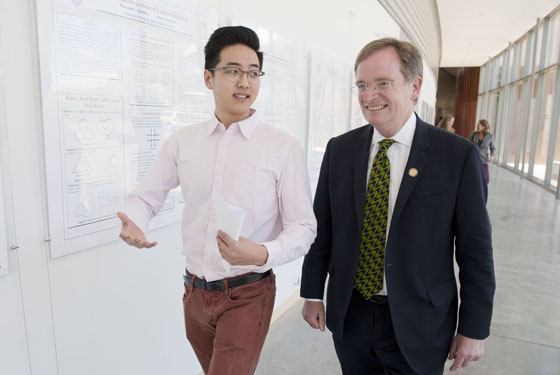 Photo: Karl Rabe
Student-Led Coalitions at Bard, University at Buffalo, and Broome Community College Awarded $1 Million Each to Develop Innovative Clean Energy Projects in Their Communities
Governor Andrew M. Cuomo today announced that New York State will award $1 million each to Bard College, University at Buffalo, and Broome Community College as part of the "Energy to Lead Competition." The competition was announced by the Governor in October 2015 and challenged student-led coalitions from New York colleges and universities across the state to develop plans for local clean energy projects on campus and in their communities. The announcement was made Monday at Bard College.
"On behalf of the College I would like to thank the Governor's office and NYSERDA for this important award," said Bard College President Leon Botstein. "Innovation is at the core of Bard's mission, and this award helps us to continue to innovate in environmental issues and energy conservation, and to signal the importance of these issues to the entire higher education community."
Bard College's "Micro Hydro for Macro Impact" project will show how novel microhydro power generators can dramatically reduce greenhouse gas emissions, be financed in different ways, and integrate into student curricula and workforce training. The project is expected to result in the avoidance of 335 metric tons of greenhouse gas emissions annually, and will also include the launch of an online public information resource, "NY Micro Hydro," to help others install microhydro power throughout the state.
"The winners of this competition will transform ideas into real clean energy solutions that reduce greenhouse gas emissions, lower energy bills and improve resiliency for campuses and their surrounding communities," Governor Cuomo said. "I extend my congratulations to the winning students and faculty, and commend them for their commitment to combating climate change by building a cleaner and healthier environment."
The Energy to Lead Competition is part of Governor Cuomo's Reforming the Energy Vision (REV) strategy to build a clean, resilient and affordable energy system for all New Yorkers. Through REV, New York State has set the following 2030 energy targets: generate 50 percent of electricity from renewable energy, reduce greenhouse gas emissions by 40 percent from 1990 levels and reduce energy consumption in buildings by 23 percent from 2012 levels. Collectively, the three winning college projects will reduce greenhouse gas emissions by the equivalent of taking 17,000 cars off the road each year.
The $3 million competition was administered by the New York State Energy Research and Development Authority (NYSERDA) and was open to student-led coalitions from two- or four-year public or private colleges or universities. The competition challenged schools to develop ideas for innovative projects in energy efficiency, renewable energy or greenhouse gas emission reduction on campus, in the classroom and in surrounding communities.
Applicants were required to demonstrate innovation in one or more of the following areas: project design, business model, partnerships, and/or curriculum integration. They were also asked to describe the project's impact on greenhouse gas emissions, how they would measure success and how they would use the $1 million award to advance the project.
"Students bring a unique urgency, passion and creativity to the fight against climate change." Richard Kauffman, chair of energy and finance for New York State. "As we remake our energy system in New York, we are thrilled to harness the leadership of our young people to help us do it faster, cheaper and bigger than any other state. I look forward to the next phase, when the winners will turn these strong ideas into real projects for the benefit of their colleges, their communities and the state as a whole."
"New York is a national leader in developing innovative energy solutions to protect our environment and grow our economy," John B. Rhodes, president and CEO of NYSERDA. "Congratulations to the winners and all the participants in 'Energy to Lead' for taking up this challenge and developing compelling ideas that not only solve critical energy issues on their campuses and communities, but that also make a point of ensuring others can learn from and replicate their success."

Post Date: 05-16-2016