Bard College Awarded $64,000 NYSERDA Grant to Develop Energy Master Plan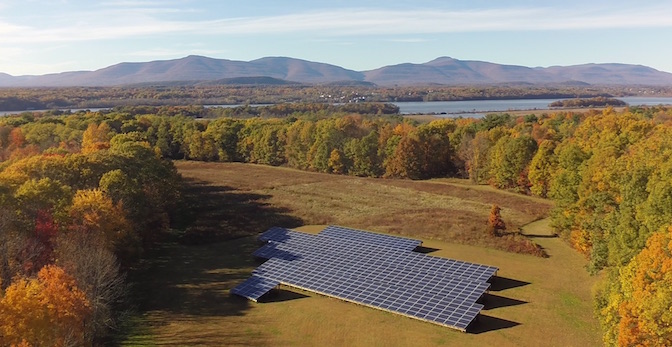 The New York State Energy Research and Development Authority (NYSERDA) has awarded Bard College a $64,000 grant to help develop a campus energy master plan (EMP). Working with Ecosystem Energy Services, Bard will evaluate its current and future energy footprint and create a roadmap for achieving the College's goals of campus net-zero energy and carbon neutrality by 2035. A key goal of the plan will be to evaluate how to contain and/or reverse the rise in consumption, costs, and emissions, with a focus on the opportunity to convert equipment that is due for replacement with high-efficiency alternatives. The plan will review Bard's existing geothermal systems and their potential expansion to existing buildings and new construction. The grant, through
NYSERDA's REV Campus Challenge Technical Assistance for Roadmaps Program
, includes $4,000 to support an internship for a graduate student from the Bard Center for Environmental Policy.
"For more than two decades, Bard has been using geothermal systems to access the stable temperatures in the ground for heating and cooling buildings. We are grateful to NYSERDA for the chance to evaluate how we've been doing, whether we can convert existing buildings to using ground-source heat pumps, and how to wisely incorporate them into future buildings," said Laurie Husted, chief sustainability officer in the Bard Office of Sustainability (BOS).
Dan Smith, BOS energy manager, added, "geothermal systems use electricity but are much more efficient and sustainable than conventional systems that consume fossil fuels, and we can further reduce electricity consumption by adding complimentary renewable energy sources—something NYSERDA has helped us with through funding for solar panels and, more recently, through funding our investigation into the use of micro hydropower."
"Colleges and universities play a pivotal role in helping the state meet its ambitious energy goals set by Governor Cuomo," said Alicia Barton, president and CEO, NYSERDA. "Investments like these made through the REV Campus Challenge help ensure campus and community resiliency and build a cleaner, more sustainable energy future for generations to come."
For more information about sustainability initiatives at Bard, visit
bos.bard.edu/energy-facilities-and-climate.
NYSERDA's
REV Campus Challenge
promotes clean energy efforts by recognizing and supporting colleges and universities in New York State that implement clean energy projects and principles on campus, in the classroom, and in surrounding communities. For more information, visit
nyserda.ny.gov/All-Programs/Programs/REV-Campus-Challenge
.
Ecosystem Energy Services
, based in New York and Boston, is an award-winning engineering firm focused on the design and delivery of high-performing energy projects. For more information, visit
ecosystem-energy.com
.
Founded in 1860,
Bard College
is a four-year residential college of the liberal arts and sciences located 90 miles north of New York City. With the addition of the Montgomery Place estate, Bard's campus consists of nearly 1,000 parklike acres in the Hudson River Valley. It offers bachelor of arts, bachelor of science, and bachelor of music degrees, with concentrations in more than 40 academic programs; graduate degrees in 11 programs; nine early colleges; and numerous dual-degree programs nationally and internationally. Building on its 158-year history as a competitive and innovative undergraduate institution, Bard College has expanded its mission as a private institution acting in the public interest across the country and around the world to meet broader student needs and increase access to the liberal arts education. The undergraduate program at our main campus in upstate New York has a reputation for scholarly excellence, a focus on the arts, and civic engagement. Bard is committed to enriching culture, public life, and democratic discourse by training tomorrow's thought leaders. For more information about Bard College, visit
bard.edu
.

Post Date: 02-05-2018